FRACKing Awareness Campaign
PLEASE HELP ...
Please support Ian's ongoing campaign to raise awareness of, & CHALLENGE, the Globalist rush towards 'Rampant Corportatism' ... if this inhuman agenda continues unabated, WE will be condemning future generations to lives of unimaginable abject misery.
Login
Subscriptions
| | |
| --- | --- |
| | Fracking Nightmare Newsletter |
Subscribe to our Newsletter

Latest videos
Latest Articles
Member Poll
Do you agree with fracking?
Yes definately
0% [0 Votes]
Yes but not near me
15% [4 Votes]
Probably no
0% [0 Votes]
Definately no
85% [23 Votes]
I don't know
0% [0 Votes]
Votes: 27
You must login to vote.
Started: 07.03.13
Public support for fracking in Britain falls for a second time
David Cameron is losing the battle for public opinion over fracking for shale gas because of high-profile public protests against the controversial technique, polling suggests.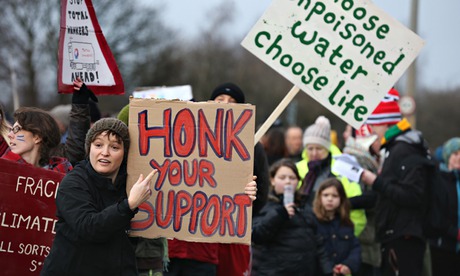 The latest results of a long-running survey on British attitudes towards shale gas, undertaken by YouGov and commissioned by the University of Nottingham, show an increase in the number of people opposed to fracking and a decrease in those in favour for the second time since protests at Balcombe in West Sussex last August.

The slide in support comes despite several major speeches by the prime minister in support of shale gas over the same period, including last week's address to the World Economic Forum in Davos where he said the UK needed to "embrace the opportunities of shale gas" even though he understood "the concerns some people have".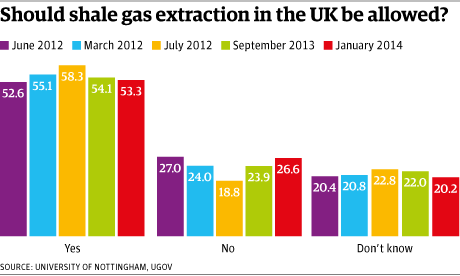 Public support for fracking steadily grew from June 2012 to a high of 58% in favour and just 18% against in July 2013, when asked the question: "should shale gas extraction in the UK be allowed?". But after the protests against an oil-drilling site run by Cuadrilla at Balcombe – which saw several thousand people marching and dozens of arrests including that of Green MP, Caroline Lucas – the number in favour fell in September to 55% and has dropped again this month to 53%. Opposition has also risen, to 24% in September and 27% this month.

Read more: http://www.thegua...pport-poll
Post Comment
Please Login to Post a Comment.